In the hustle and bustle of our daily lives, maintaining a clean house can sometimes feel like an uphill battle. However, a tidy home is not only more visually appealing but also contributes to a healthier and more organized lifestyle. Whether you have unexpected guests on the way, need to tidy up before an event, or simply want to keep your house in tip-top shape without dedicating hours to a deep cleaning yourself, this guide will show you how to clean your house fast without sacrificing quality.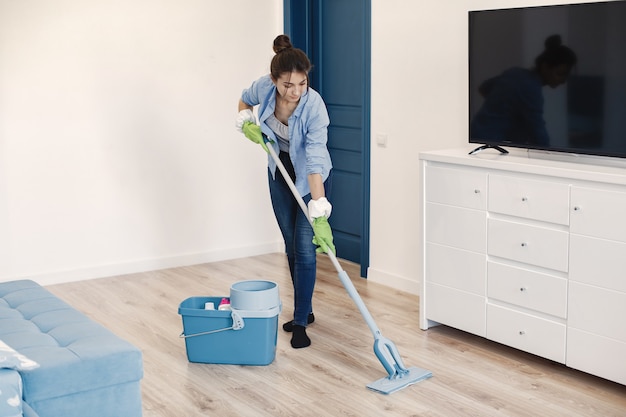 Prioritize High-Traffic Areas
When you're short on time, it's crucial to prioritize cleaning tasks efficiently. Begin by focusing on high-traffic areas of entire house, such as the living room, kitchen, and bathroom. These areas tend to accumulate the most dirt and clutter. Here's a breakdown of what to do in each:
Gather Your Cleaning Tools
Before diving into cleaning, ensure you have the right cleaning tools and supplies at your disposal. Having everything ready will save you precious minutes. Here's a checklist of essential cleaning supplies and tools:
Adopt a Step-by-Step Approach
A systematic approach can significantly streamline your cleaning process. Follow these steps to ensure that no corner of the bathroom floors your home is overlooked:
Tackle One Task at a Time
While it might be tempting to multitask, cleaning is more efficient when you focus on one task at a time. Here's how to manage your cleaning tasks effectively:
Optimize Your Vacuuming Technique
Vacuuming is a fast and effective way to rid your floors and carpets of dust, dirt, and pet hair. However, the technique you use matters. Follow these tips for the best results:
6. Don't Forget About Your Bathroom
A clean bathroom is a must, especially when time is of the essence. Here's how to quickly freshen up your bathroom:
Pay Attention to the Kitchen
The kitchen is another high-traffic area that requires regular, deep cleaning task too. Follow these steps to get your kitchen sparkling clean quickly:
Deal with Dirt and Dust
Dust can accumulate rapidly, especially in areas we often overlook. Here's how to make dust surfaces to efficiently deal with dust and dirt:
Speedy Finishing Touches
As you approach the end of your fast-cleaning routine, focus on these finishing touches to ensure your home looks its best:
Maintain a Clean House
Now that your house is clean, here are some tips to help you keep deep clean and maintain its cleanliness in the long run:
Conclusion
Cleaning your house quickly doesn't have to be a daunting task. With these strategies and a bit of practice, you can achieve a clean and inviting home even when you're pressed for time. Remember, a tidy home contributes not only to aesthetics but also to your overall well-being and productivity.
By following this comprehensive guide, you can efficiently maintain a clean house, ensuring that it's always ready for unexpected guests or impromptu gatherings. A clean home fosters a positive atmosphere and makes daily life more enjoyable.
This extended guide to house cleaning should provide you with valuable insights and practical tips to help you achieve a clean house quickly and effectively, no matter how busy your schedule may be.