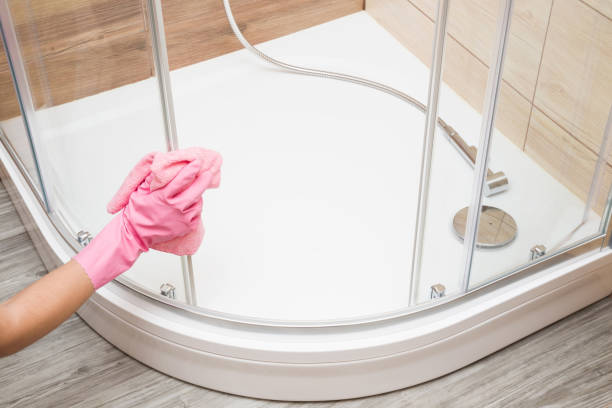 Maintaining the allure of a glass shower door in your bathroom involves more than just regular cleaning. Glass shower doors, while elegant, often fall prey to a common nemesis: soap scum. Fear not, for we've compiled a comprehensive guide on how to banish soap scum and keep your glass shower doors gleaming. From tried-and-true methods to lesser-known tricks, we've got you covered.
Understanding Soap Scum and Its Challenges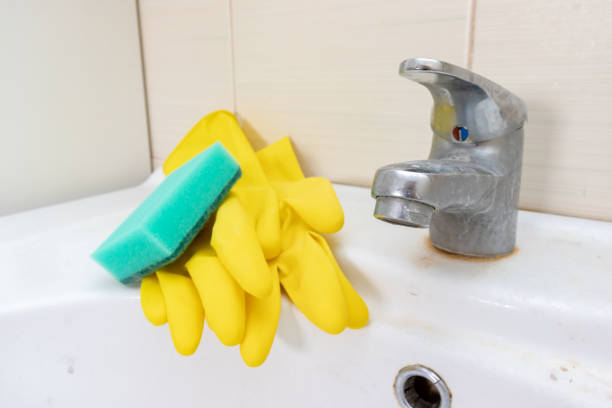 Soap scum, that filmy residue that seems to appear out of thin air, is a combination of soap, minerals from hard water, body oils, and skin cells. It clings to shower doors, making them appear dull and uninviting. But fear not, we have an array of strategies to restore the sparkle.
Gather Your Arsenal: What You'll Need
Before embarking on your soap scum battle, assemble your cleaning arsenal.
You'll require:
White vinegar
Baking soda
Dish soap
A microfiber cloth or non-abrasive sponge
A plastic scrubber or non-scratch sponge
A spray bottle
A squeegee
The Vinegar Solution: Your Secret Weapon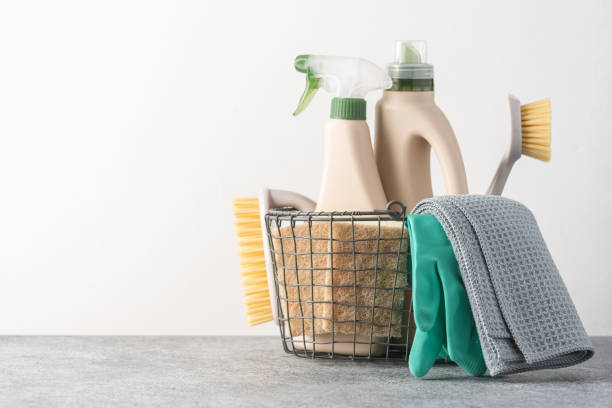 Step 1:
Mix equal parts of white vinegar and water in a spray bottle. For added effectiveness, include a few drops of dish soap.
Step 2:
Spray the solution liberally onto the soap scum-covered shower doors. Let it sit for approximately 10-15 minutes, allowing the vinegar's natural acidity to weaken the liquid soap scum's grip.
The Gentle Scrubbing Dance
Step 3:
Armed with a plastic scrubber or non-scratch sponge, gently scrub the affected areas. Employ circular motions, applying a bit of pressure to tackle the buildup. Stubborn spots might require extra attention.
Baking Soda Brilliance
Step 4:
For more resistant soap scum or mineral deposits, concoct a baking soda paste. Blend baking soda with a small amount of water to create a thick mixture. Spread the paste over the soap scum forms above, wait a few minutes, and then scrub with a cloth or sponge.
Tackling the Tracks and Tough Spots
Step 5:
Don't neglect the shower door tracks. These can accumulate gunk too. Use an old toothbrush and a baking soda-water paste to clean shower door tracks and scrub them clean.
Step 6:
Persistent soap scum might necessitate a more powerful solution. Create cleaning paste from a mixture of equal parts vinegar and dish soap. Apply it to the problematic areas and let it sit for a while before scrubbing.
Prevention and Long-Term Maintenance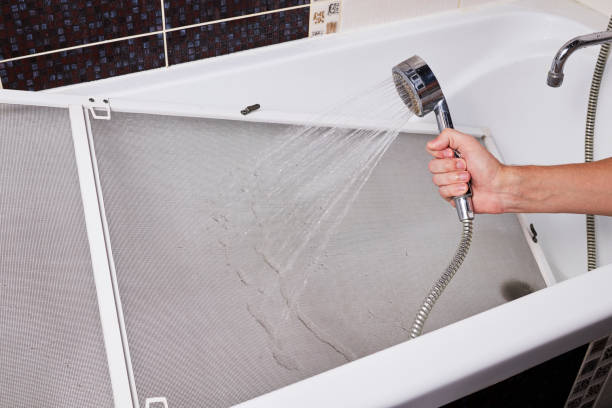 Preventing all the soap scum here from staging a comeback is the real victory. Here's how:
Invest in a daily shower spray to keep soap scum at bay.
After each shower, squeegee the doors to eliminate excess water and thwart new buildup.
Conquering Hard Water Stains
Hard water can be another nemesis. To tackle it:
Step 7:
Mix equal parts of distilled white vinegar, lemon juice and water. Spray it onto the glass, let it sit for a few minutes, then rinse.
Step 8:
If tough spots remain, gently rub them with a wet pumice stone, ensuring the that both the pumice stone itself and glass are wet to avoid scratching.
The Finishing Touches
Step 9:
After thorough cleaning, rinse the shower doors with water to remove any remaining cleaning solutions. Dry the shower glass doors completely using a lint-free towel or a microfiber cloth.
A Water Softening Solution
If hard water remains a persistent problem, consider installing a water softening system. This can help minimize the mineral buildup that contributes to soap scum.
The importance of Clean Soap Scum off Shower Doors
Cleaning soap scum off shower doors is not only important for maintaining the visual appeal of your bathroom, but it also has several practical benefits and health considerations. Here are some reasons why it's essential to regularly clean soap scum off shower doors:
Aesthetic Appeal:
Soap scum bar soap buildup can make your shower doors look dingy and unclean. Regular cleaning helps maintain the overall aesthetic of your bathroom, making it more inviting and pleasant to use.
Prevents Permanent Stains:
Over time, soap scum can etch into glass doors and other surfaces, causing permanent stains and damage that can be difficult to remove. Prompt and regular cleaning helps prevent these stains from becoming a permanent fixture on your shower doors.
Improves Indoor Air Quality:
Soap scum can accumulate mold, mildew, and bacteria, contributing to poor indoor air quality. These microorganisms can cause respiratory issues and allergies, particularly in individuals who are sensitive to them.
Reduces Slip Hazards:
Soap scum, when combined with water, can create a slippery surface that increases the risk of slips and falls in the shower. Regular cleaning helps maintain a safer environment for everyone using the shower.
Preserves Longevity:
Soap scum buildup can degrade the quality of materials, such as glass, metal, and grout. Regular cleaning helps extend the lifespan of your shower fixtures and surfaces.
Easier Maintenance:
The longer soap scum is allowed to accumulate, the more difficult it becomes to even remove soap scum. Regular cleaning prevents the need for aggressive and potentially harmful cleaning agents and methods.
Saves Time and Effort:
Regular maintenance requires less time and effort compared to a cleaning solution tackling heavy soap scum buildup. Consistent cleaning prevents the need for intensive scrubbing sessions.
Maintains Water Flow:
Soap scum can accumulate in shower drains and cause clogs over time. Keeping soap scum under control helps maintain proper water flow and prevents potential plumbing issues.
Promotes Hygiene:
Soap scum can trap dirt, body oils, and dead skin cells, creating an unhygienic environment in your shower. Cleaning soap scum ensures a more clean shower, and sanitary place to bathe.
Preserves the Value of Your Home:
A well-maintained bathroom contributes to the overall value of your home. Regular cleaning of soap scum helps maintain the condition of your bathroom fixtures and surfaces, which can be important if you decide to sell your home in the future.
To clean soap scum effectively, use mild cleaning solutions, such as vinegar, baking soda, or commercial bathroom cleaners. Regular wiping and squeegeeing after each shower can also help prevent soap scum buildup in the first place. By making soap scum removal a part of your regular cleaning routine, you can enjoy a cleaner, safer, and more inviting bathroom environment.
The Final Word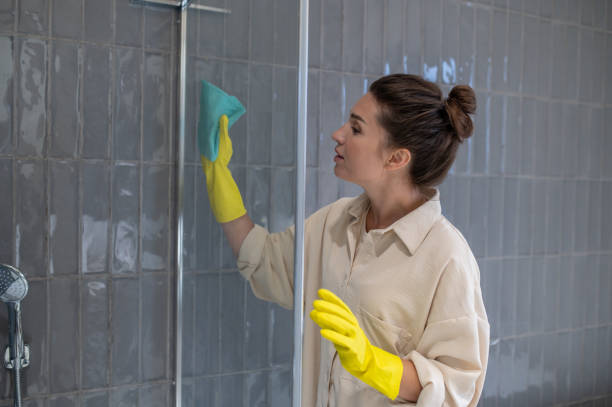 Cleaning soap scum off clean glass shower doors doesn't have to be a daunting task. Armed with the right techniques and a dash of patience, you can restore the brilliance of your glass shower doors. Incorporating these strategies into your regular cleaning routine will keep soap scum at bay and ensure your bathroom remains a haven of cleanliness and relaxation.
Remember, if the battle against soap scum seems overwhelming, our expert cleaning services are just a call away. We're here to help you achieve a bathroom that shines with the brilliance it deserves.
Incorporating these methods will make your glass shower doors gleam again, transforming your bathroom into a sparkling sanctuary. So, roll up your sleeves, gather your supplies, and let's bid farewell to stubborn soap scum together.