Being a parent is one of the most rewarding and fulfilling experiences that life has to offer. However, it's also one of the busiest and most demanding jobs out there. Between taking care of your children, working, and managing a household, it can be challenging to find the time to keep your home clean and organized. That's where cleaning hacks come in. These are tips and tricks that can help you clean your home more efficiently, so you can spend less time scrubbing and more time with your family. In this blog, we'll share some of the top cleaning hacks for busy parents.
Create a Cleaning Schedule
One of the best things you can do to keep your home clean is to create a cleaning schedule. This will help you stay on top of tasks, so you don't feel overwhelmed by a messy house. Start by making a list of all the tasks that need to be done, such as vacuuming, dusting, and doing the laundry. Then, assign each task to a day of the week. For example, you might do laundry on Mondays, vacuum on Wednesdays, and dust on Fridays. Having a schedule in place will make it easier to manage your time and ensure that nothing falls through the cracks.
Keep Cleaning Supplies Handy
Another key to efficient cleaning is to keep your supplies handy. This means having all the products and tools you need in a convenient location, so you don't waste time searching for them. Consider creating a cleaning caddy or tote that you can easily grab when it's time to clean. Stock it with essentials like all-purpose cleaner, microfiber cloths, and a duster. You might also want to keep a small vacuum or handheld dustbuster nearby for quick cleanups.
Use Vinegar for Cleaning
Vinegar is a versatile and affordable cleaning solution that can be used in a variety of ways around your home. It's particularly effective at removing soap scum and hard water stains in the bathroom. To use vinegar for cleaning, simply mix equal parts white vinegar and water in a spray bottle. Spray the solution on the surface you want to clean, then wipe it away with a cloth. You can also use vinegar to clean windows, floors, and kitchen appliances like the refrigerator and dishwasher.
Dust with Dryer Sheets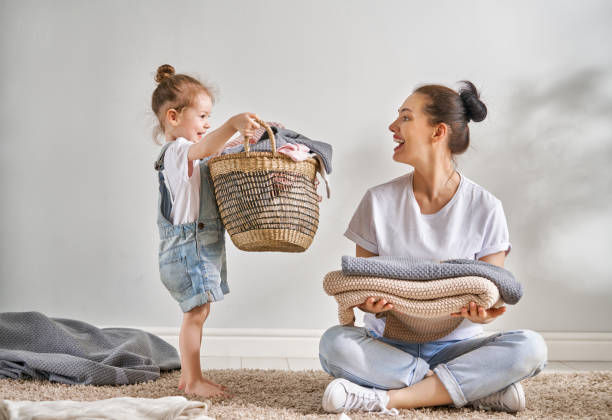 Dusting can be a tedious and time-consuming task, but it's an essential part of keeping your home clean. To make it a little easier, try using dryer sheets instead of a traditional duster. Dryer sheets are effective at picking up dust and can also leave a pleasant scent behind. Simply wrap a dryer sheet around a clean cloth or sponge and use it to wipe down surfaces like shelves, blinds, and baseboards.
Clean Your Microwave with Lemon
Cleaning the microwave is one of those tasks that often gets overlooked, but it's important to do regularly to prevent the buildup of food splatters and odors. To make this chore a little more pleasant, try using a lemon to clean your microwave. Cut a lemon in half and squeeze the juice into a microwave-safe bowl. Add a cup of water and microwave on high for five minutes. The steam from the lemon and water will loosen any food particles stuck to the inside of the microwave, making them easy to wipe away with a cloth.